ReSurfaced: Three Days at 10th Street
MUSIC × BEER × ART × COMMUNITY
With the original intent to activate spaces around the city, the third ReSurfaced initiative moved to a new location for a brief three-day activation of the parking lot where 10th Street meets the Ohio River.
In October 2015, City Collaborative's ReSurfaced initiative continued the campaign to breathe life into our city's underutilized urban parking spaces. Working with community partners, we activated a surface lot at 10th Street on the Riverwalk of the Louisville Loop in conjunction with the Louisville Commission on Public Art's 'Connect/Disconnect' public art project. Visitors joined us for three days on October 15th-17th to enjoy music, design, community discussions, local beer, and local food, in a reimagined urban space with beautiful views of Downtown Louisville and the new public art installations of Connect/Disconnect.
DATES
October 15th - 17th (2015)
Open Thursdays - Saturdays
HOURS
Thursday Oct 15th 5p–10p
Friday Oct 16th 5p–11p
Saturday Oct 17th noon–11p
LOCATION
10th Street & Ohio River
Louisville, KY 40202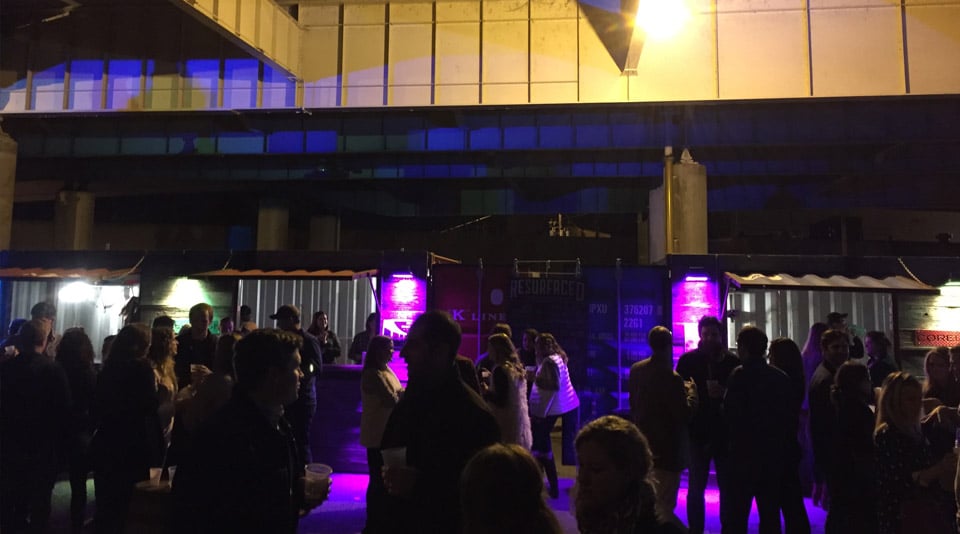 PROGRAMMING SCHEDULE
THURSDAY OCTOBER 15, 2015
5:00 - 6:30 pm: Leadership Louisville Happy Hour
6:30 - 10 pm: ReSurfaced Art Carnival
+ Music by DJ Sam Sneed
+ Spettra
+ Valerie Fuchs "Flood Wall"
+ Tiffany Carbonneau "Overpass"
+ Red "Caricatures"
+ Nathan Smith "Mayor's Table"
+ Hite Art Institute
+ Mary Carothers "Beneath the Surface" Demo
+ Roots & Wings "Flow"
FRIDAY OCTOBER 16, 2015
5:30 - 6:30 pm: Fashion Show Dress Rehearsal
8:30 - 9:30 pm: ReSurfaced x KMAC Streetwear Showcase
+ Music by DJ Hi-Definition (of Stay-True.com)
+ Four Fathers
+ Stack Save Pray
+ Bad Wolf Clothing
+ Bourbon Outfitters
+ BRC
+ Know Nothing
+ Dynastee
+ OMBD
9:30 - 11:00 pm
+ Music by DJ Hi-Definition (of Stay-True.com)
SATURDAY OCTOBER 17, 2015
Noon- 5:00 pm: SlowFood Fried Chicken Throwdown
+ Music by Thomas Duet
6:00 - 8:00 pm: Monster Mash
+ Music -Kid friendly playlist
8:00 - 11:00 pm: Caufield's Costume Dance Party
+ Music by DJ Glittertitz